THE 11TH ANNUAL CMDR COE CONFERENCE "CRISIS RESPONSE IN NEW ARISING WORLDWIDE THREATS"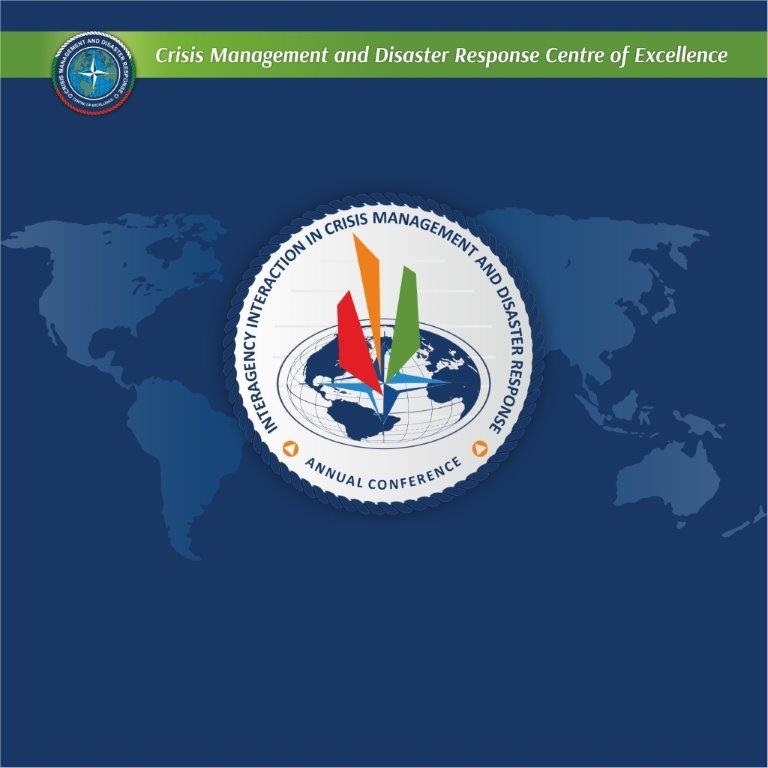 Date: (31-05-2023)
City: Sofia

Location (Hybrid format): CMDR COE, online
Organizers: NATO CMDR COE /www.cmdrcoe.org/
Newly arising security challenges are critical to the operations and performance improvement within Crisis Management and Disaster Response domain. Furthermore, a more adaptive and comprehensive approach towards the new security challenges is needed.
The CMDR COE has scheduled to conduct for the next year the 11th Annual Conference, one of the capstone events planned in POW 2023. It is to take place from 31 May to 01 June 2023 in Sofia, Bulgaria.
The event is a platform for interaction and exchange among the CMDR community of interest SMEs from NATO, NATO Allies and Partners and participating organizations. The event focuses on the evolving security environment and the multiple challenges of distinct origin we have to meet, further examined in specialized panels. The conference will discuss the potential adaptive and comprehensive approach towards the arising security challenges in the Crisis Management and Disaster Response domain.
Placing the focus on these themes, the CMDR COE seeks to draw attention to adequate preparedness and contribute to timely adaption within the CMDR domain to NATO's continuous transformation.
Conference fee: 85 EUR
Articles submission: Should you wish to submit an article for publication in the Conference proceedings 2023 (ISDN), please send it NLT 30 May 2023,
to LTC Sasho Aleksandrov; email: sasho.aleksandrov@cmdrcoe.org.
The abstracts have to be submitted NLT 30 April 2023 and sent to LTC Sasho Aleksandrov; email: sasho.aleksandrov@cmdrcoe.org.
The fee for publishing of the Article is 40 EUR.
No fee will be charged to military personnel, governmental employees and governmental educational institutions from the Sponsoring Nations and the Framework Nation. (CMDR COE FAPs, Annex H)
The CMDR COE Bank Account:
Bank name:

UniCredit Bulbank

Bank address (incl. country):

7 Sveta Nedelya Sq., 1000 Sofia, Bulgaria

Account number (IBAN)

BG45UNCR70001522070686

SWIFT / BIC / BLZ / ABA routing number

UNCRBGSFXXX

Account name

Crisis Management and Disaster Response Centre of Excellence
The Conference Program is available here, and it is subjected to the changes related to event coordination.
Click here for the Register now
POC:
Robert JURSKI |COL (OF-5), POL-A
Crisis Management and Disaster Response Centre of Excellence
Transformation Branch Chief
Email: robert.jurski@cmdrcoe.org
Office: +359 2 92 24704 I Cell: +359 88 557 3554
The Conference OPR:
Sasho ALEKSANDROV |LTC (OF-4), BGR
Crisis Management and Disaster Response Centre of Excellence
Concept Development and Experimentation Expert
Email: sasho.aleksandrov@cmdrcoe.org
Office: +359 2 92 24743 I Cell: +359 887 056 653
Speakers of the 11th ANNUAL CMDR COE CONFERENCE "CRISIS RESPONSE IN NEW ARISING WORLDWIDE THREATS"
MAJOR GENERAL TONY L. WRIGHT,

DEPUTY CHIEF OF STAFF, STRATEGIC PLANS & POLICY

Major General Tony L. Wright currently serves as the Deputy Chief of Staff for Strategic Plans and Policies (DCOS SPP) at NATO Headquarters, Supreme Allied Command Transformation in Norfolk, VA. He previously commanded the 98th Division at Ft. Benning, GA. He began his military career in 1983, enlisting as a 13B Cannon Crewman at Ft. Polk, Louisiana. He received his commission through the Reserve Officer Training Corps at Ohio University where he earned recognition as a Distinguished Military Graduate and completed his Bachelor of Science Degree in Industrial Technology/Manufacturing in 1989.

Major General Wright′s military schools include the Field Artillery Basic and Advance Courses, the Field Artillery Target Acquisition and Survey Officers Course, the MLRS Cadre Course, Combined Arms and Services Staff School (CAS3), Intermediate-Level Education (ILE) Course, the Army War College, and Capstone. His awards and decorations include the Legion of Merit, Meritorious Service Medal (w/6 Oak Leaf Clusters), the Army Commendation Medal (w/2 Oak Leaf Cluster), the Army Achievement Medal, the Good Conduct Medal, the South West Asia Service Medal (w/ 2 bronze service stars), the Kuwait Liberation Medal (Saudi Arabia), Kuwait Liberation Medal (Kuwait), Global War on Terrorism Service Medal, and the Basic Parachutist and Air Assault Badges.

DR. RAED ARAFAT,

SECRETARY OF STATE, MINISTRY OF INTERNAL AFFAIRS, ROMANIA

Dr. Arafat has a wide experience in operational coordination of emergency services, he participated and organized numerous training courses and seminars in the field of emergency medical care, control and coordination of emergency services, emergency management, etc.

Starting with 2007, he coordinated the activity of many institutional structures and strategic programmes for Emergency Situations, among them: Healthcare System for Emergencies and Disasters in the Ministry of Health, as well as the Department for Emergency Situations that coordinates the General Inspectorate for Emergency Situations, General Inspectorate of Aviation, Emergency Medical Services and Mountain Rescue in the Ministry of Internal Affairs.

On the same line, Dr. Arafat is a member of several scientific and professional organizations in the field of emergency medicine and disaster medicine (both at domestic and international level), as well as author and co-author of several textbooks, books, documents and articles.

Dr. Raed Arafat received academic titles and distinctions conferred by prestigious, national and international organisms, such as Legion of Honour at the class of Chevalier offered by the President of France, International Emergency Medicine Leadership Award from American Academy of Emergency Medicine, National Order For Merit at the class of Chevalier and Officer offered by the President of Romania for the whole scientific and research activity, for the outstanding contribution to the development and promotion of information technology and communications in Romania.

Brigadier General Maciej KLISZ, Deputy Commanding General of the POL TDF

Brigadier General Maciej KLISZ enlisted in the Polish Armed Forces in 1991. He commenced his military career in the 6th Airborne Brigade. In 2006, BG KLISZ joined the Polish Special Operations Forces, where he served for eleven years. He later served as a Special Operations Advisor in the Response Forces Command in Ulm (Germany). In 2016, BG Maciej KLISZ entered the newly created Polish Territorial Defence Forces (POL TDF). He assigned as a Deputy Commanding General of the POL TDF and promoted to Brigade General in August 2021.

BG Maciej KLISZ deployed to Bosnia-Hercegovina and Afghanistan. BG KLISZ graduated from the National Defence Academy (2005), Post-Graduate Operational and Tactics Studies (2006), Program on Terrorism and Security Studies (2012), the US Army War College (2020), and numerous courses and training. His awards include the Military Cross of Merit with Swords, the US Bronze Star Medal, the Afghan Campaign Medal, and the Slovak Special Forces Medal.

BG Maciej KLISZ is the author of numerous articles, analyses, and papers on special operations policies and operational employment, professional military education, international military cooperation, strategy development, and territorial and volunteer formations.

Mr. Holger OSTERRIEDER, Head of the ESDC

Mr. Holger Osterrieder has worked as an international civil servant and a diplomat with EU institutions, Member States, and the United Nations, both at headquarters and in the field. On May 21, 2022, he was appointed by the High Representative and Vice-President of the Commission as Head of the European Security and Defence College, and took up his duties on September 1, 2022.

A graduate of Cambridge University (M.Phil. in International Relations), the French National School of Administration (promotion "Léopold Sédar Senghor"), and the University of Paris IV-Sorbonne (Maîtrise Lettres modernes), Holger Osterrieder also studied at the University of Oxford and at Bamberg University.

Mr. Jean-Pierre van Aubel, Expert - Defence Policy and Strategy/Strategic Compass

Mr. Jean-Pierre van Aubel studied Public Administration at the Erasmus University in Rotterdam. Jean-Pierre also holds a Master's degree in European Political and Administrative Studies from the College of Europe where he graduated in 2002 (Promotion Simon Stevin).

Between 2003 till 2007 and from 2009 till 2010 Jean-Pierre worked as a Senior Policy Advisor on European Security and Defence to the Dutch Minister of Defence. From January 2008 till March 2009 Jean-Pierre worked as a Personal Advisor to the Head of Mission of the EU Rule of Law Mission EULEX Kosovo. After that, he represented The Netherlands in the EU Politico-Military Group (PMG) from August 2010 till August 2014. Between September 2014 and September 2016, Jean-Pierre was the Head of a Ministry of Defence Task Force preparing and executing the EU-Presidency, which The Netherlands held during the first six months of 2016.

Jean-Pierre works since September 2016 for the European External Action Service where he served until August 2020 as the permanent Chair of the Politico-Military Group and since September 2020 as a Senior Expert on Defence Policy and Strategy. He is the penholder of the Strategic Compass.