Application, Selection, Main tasks and Responsibilities
Applications for the CMDR COE Internship Programme will be accepted as either responses to specific calls or as spontaneous applications, as follows:
Calls for internship - applications past the set deadline will not be considered;

Spontaneous applications - should be made no less than 4 (four) months in advance of the desired internship start date and should clearly specify a research topic.
Applicants should carefully review the eligibility criteria for selection making sure they fulfil them and prepare all necessary application documents, in accordance with stipulated requirements, prior to submitting their application. Applicants falling short of fulfilling the eligibility criteria, as well as incomplete applications or such non-complying with the preparation requirements shall not be considered in the selection process.
All applications should be submitted online. Candidates should fill in an online application form attaching the following:
At least one, but no more than three, recommendation letters from an academic or professional institution;

A one-page Cover Letter including: 1) motivation for undergoing an internship; 2) preferences and a research proposal on a topic of interest; 3) expectations of the internship; 4) any other information considered relevant for the selection process.
The CMDR COE is committed to ensuring a fair, free of discrimination and harassment, and enabling working environment. In its selection process, the Centre pays utmost attention to respecting gender equality and to selecting candidates on as wide a geographical basis as possible. The CMDR COE selection process is based on clearly stated eligibility and application criteria and has two stages: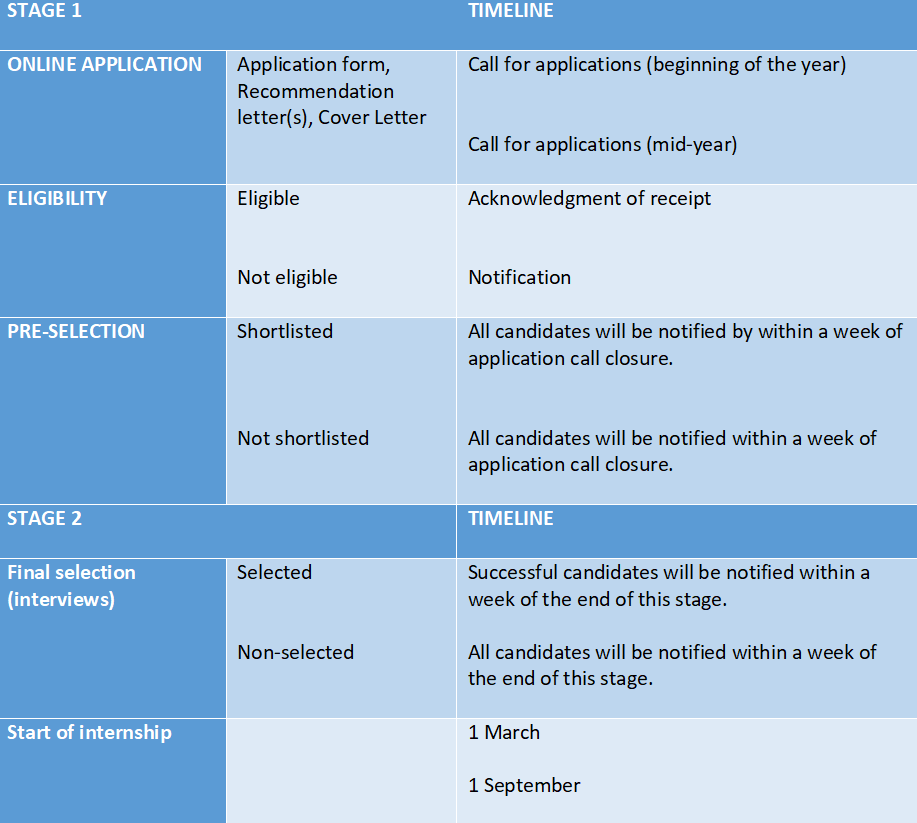 Successful candidates will be invited to join the CMDR COE team as interns.
The main objective of interns will be to learn and get a better understanding of CMDR COE core business in the field of crisis management and disaster response. They will be assigned support tasks related to the work of the Section they are hosted by. Interns will also perform general support tasks related to the work of the Branch, within which their hosting Section is located. Occasionally, and upon the explicit authorization and sanction of their respective Internship Supervisor, interns will perform other support tasks related to the work of other CMDR COE Sections and Branches.
Interns will be assigned a research project relevant to their academic background and preferred professional development path, and to the CMDR COE thematic portfolio. Each intern will be assigned a supervisor who, alongside being generally responsible for the conduct of the internship, will be responsible for providing information and guidance, including initial technical requirements, in the preparation of the paper. The supervisor will also provide continuous editorial and follow-up support within the agreed research timeframe. An expected output from the research is a finalized research paper of no less than 10 (excluding bibliography and references) and no more than 20 pages, Arial 12, 1 ½ spacing, standard margins (1 inch), a cover page (provided by the supervisor), a table of contents, a brief summary / abstract of no more than 12 lines. The final paper will be presented at a specially organised meeting chaired by the CMDR COE Director and attended by relevant CMDR COE staff members.
NOTE:
An applicant may not be, and shall not be considered for selection if, a child, sibling or in any way a relative of a CMDR COE's staff member.
Applicants will be required to declare non-affiliation of the types stipulated here-above in their application.
The CMDR COE internship is not connected with employment but may provide future collaborative prospects for specific initiatives.
The applicaiton form as well as all attachements (i.e. CV, recommendation letters, certificates, other application support documents) should be in English language.