CMDR COE Welcomes Deputy Supreme Allied Commander Transformation (DSACT) Admiral Manfred Nielson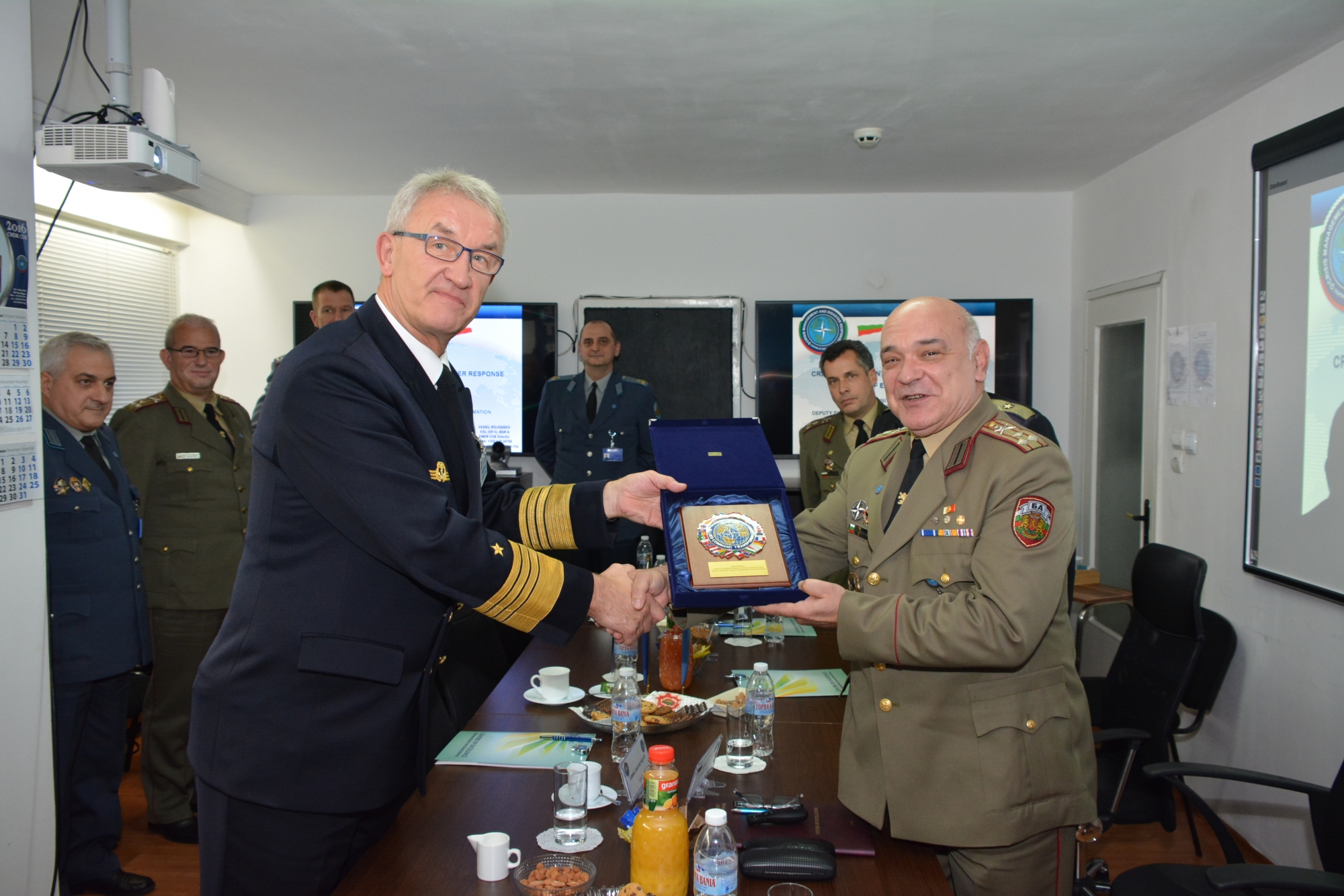 Date: (16-11-2016)
The Crisis Management and Disaster Response Centre of Excellence (CMDR COE) hosted a top-level visit of the Deputy Supreme Allied Commander Transformation (DSACT) Admiral Manfred Nielson on November 14, 2016. Admiral Nielson attended a meeting with CMDR COE Director Colonel Vassil Roussinov, Deputy Director Colonel Panagiotis Aposporis and Branch Chiefs.
Admiral Nielson came to Bulgaria at the formal invitation of the Bulgarian Chief of Defence General Konstantin Popov. During his visit, ADM Nielson delivered a Strategic Message at the 2016 Concept Development and Experimentation (CD&E) Conference, which was held in Sofia, Bulgaria. The annual event was organized by HQ SACT, US Joint Staff, and hosted by the Ministry of Defence of the Republic of Bulgaria in close cooperation and support of the Crisis Management and Disaster Response Centre of Excellence.
The official meeting of Admiral Manfred Nielson with the CMDR COE Command Group was in line with the Centre's priority to collaborate with ACT, as one of the two Strategic Commands (SCs) in NATO, the other being Allied Command Operations (ACO). Admiral Nielson has expressed willingness to support CMDR COE efforts to enhance CMDR expertise by additional NATO members and partner state, joining as CMDR COE sponsoring nations. Other possible areas of support mentioned at the meeting were the establishment of a broad network for information and expertise exchange between the Centre and HQ SACT and NATO HQ in the CMDR domain, the development of CMDR COE training and education capabilities through cooperation with HQ SACT education and training bodies, as well as the promotion and development of various CMDR COE projects at the HQ SACT level.
News