The initial planning conference for the SEESIM 14 exercise was held in Zagreb, Croatia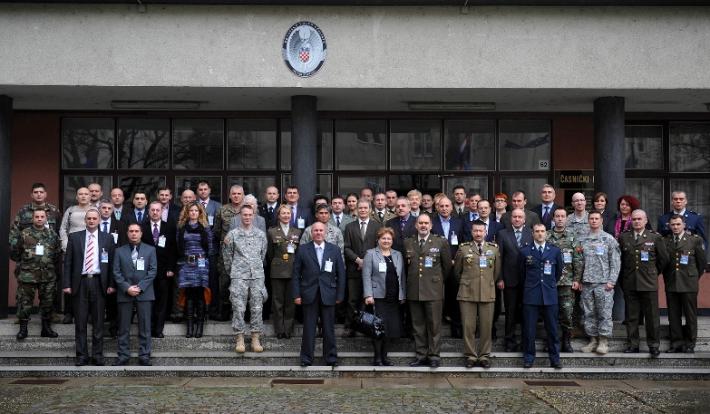 Date: (27-01-2014)
The initial planning conference for the distributed computer assisted exercise South Eastern Europe Simulation Network (SEESIM 14) was held in Zagreb, Croatia. The Republic of Bulgaria is co-organizer and participates actively in the conducting of the exercise together with the Host Nation. Among the participants are also representatives of Albania, Bosnia and Herzegovina, Georgia, Montenegro, Romania, the Former Yugoslav Republic of Macedonia, United States of America and the SEEBRIG.
The exercise is held under the auspices of the Ministers of Defence of the SEE Nations.
The SEESIM Exercise in general promotes the coordinated, rapid, interagency response of SEDM nations to real world threats – both natural and man-made – to our individual and collective security. The main goals of SEESIM 14 are to standardize and improve national, SEEBRIG HQ and regional processes and procedures in emergency response situations and to improve interoperability among the SEDM nations and SEEBRIG HQ.
The CMDR COE has significant contribution to the planning, organizing and conducting of the SEESIM 14. For the purpose of the exercise the Centre will organize and carry out courses for Exercise Planners (26-27 March) and Training audience (27-29 May) and seminar "CMDR Interagency Interaction" (01-03 July).
The SEESIM 14 will be held in September 2014. The main command and control centre of the exercise will be located in Croatia and remote command centres will be located in the other participant nations. The Nations will be responsible for the command and the control of the participants in their territories.
News