International Conference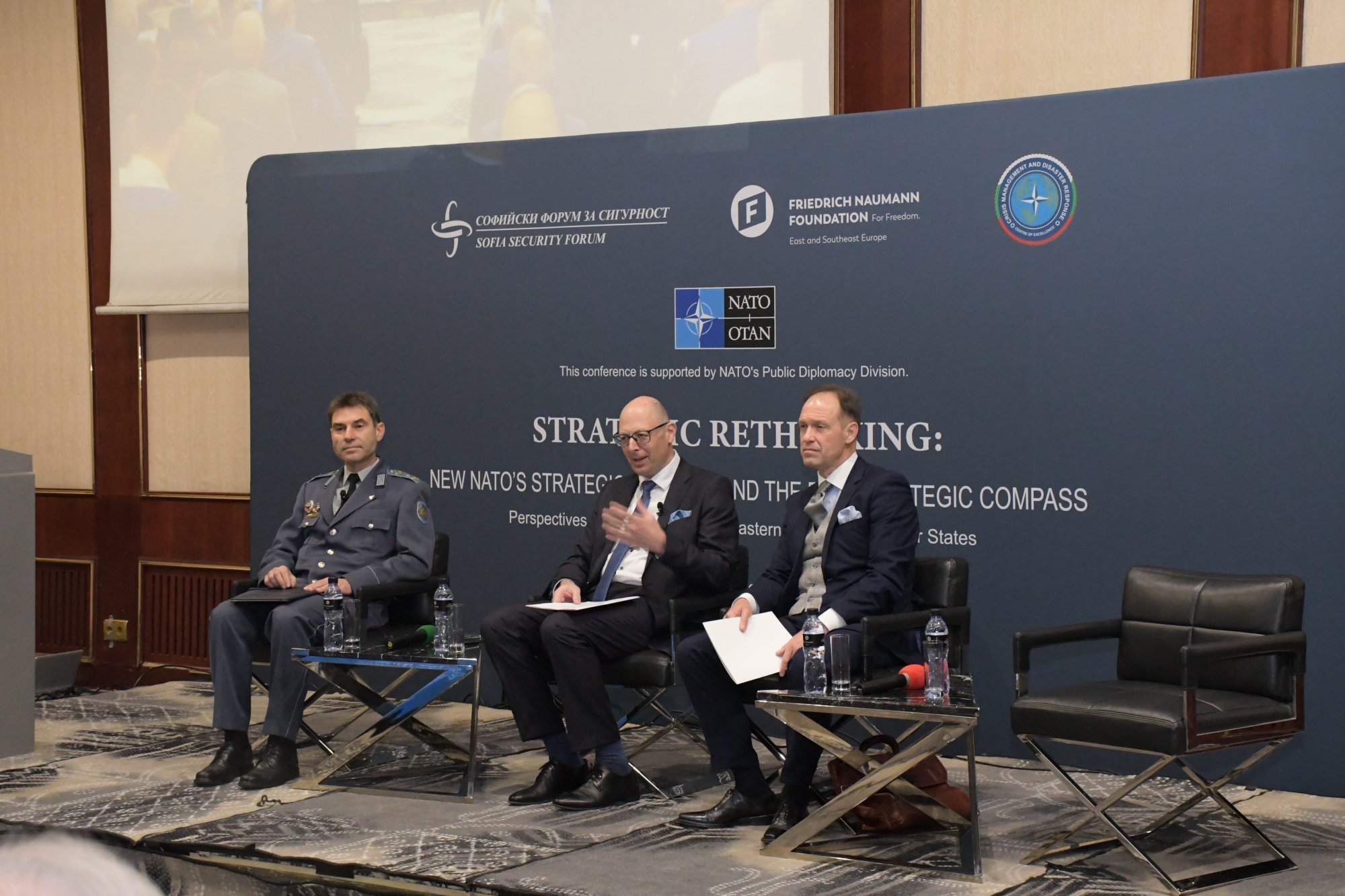 Date: (17-11-2022)
This event is co-sponsored by NATO's Public Diplomacy Division
Sofia Security Forum, together with the Crisis Management and Disaster Response Centre of Excellence (CMDR COE) and the Friedrich Naumann Foundation for Freedom, and with the co-sponsorship of the NATO Public Diplomacy Division, organized an International Conference titled "Strategic rethinking: new NATO Strategic Concept and EU Strategic Compass. Perpectives of Central and Eastern European Member States."
The event took place on 17 November 2022. It was conducted in hybrid mode, including by physical presence in Marinela Hotel, Sofia, Bulgaria, and online. Over 100 representatives from NATO, EU, State Institutions, Think Tanks, Academia, Diplomatic Corps, Media and young professionals had the opportunity to participate in the discussions.
The main goal of the conference is to discuss the complexity of current risks and threats to the regional and global security, predominantly those arising from the Russian aggression against sovereign Ukraine. Keeping in mind the potential global dimensions of this war, the conference also discussed possible responses to the Russian hybrid warfare against the democratic world, including weaponization of the energy supplies, propaganda, fake news, cyber-attacks and others. At the same time, it took into consideration all other threats such as terrorism, migration, natural disasters, climate change and many others.
The main focus of the conference was put over the practical steps in response to aforementioned risks and threats of both NATO and EU, stipulated in their recently adopted strategic documents, namely the NATO Strategic Concept and the EU Strategic Compass. A particular focus has been given on the viewpoint of Eastern European Flank's countries and the potential measures to be taken on to strengthen the deterrence and defence alongside outer borders.
The specific objectives of the event are as follows:
- to raise awareness of the objectives and the outcomes of the new NATO Strategic Concept and the EU's Strategic compass;
- to conduct an open discussion and an informed debate on the future of Euro Atlantic security in a more unpredictable and competitive world;
- to contribute to the broader public's awareness on the risks and threats and the relevant measures in response to them.
News