CMDR COE Assists Iraqi National Defence College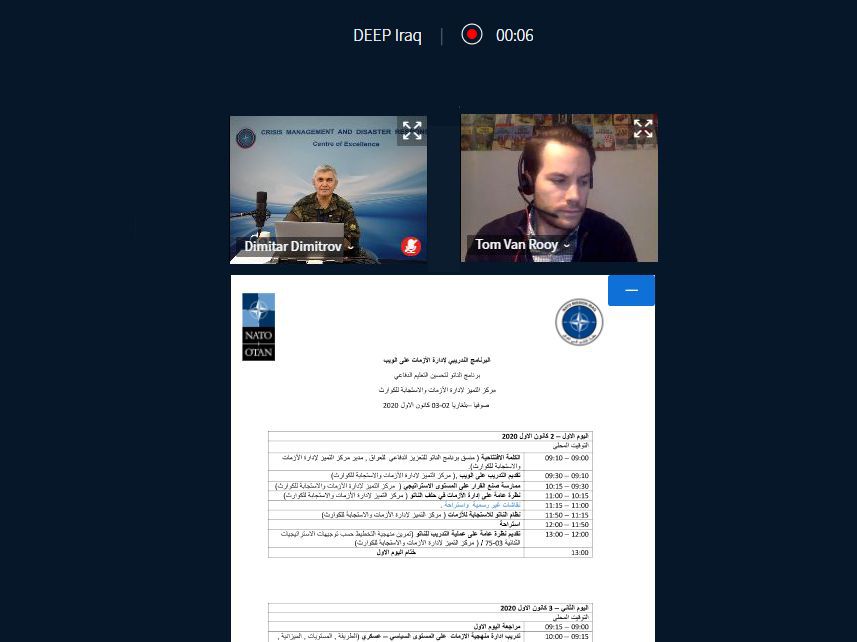 Date: (04-12-2020)
The Crisis Management and Disaster Response Centre of Excellence (CMDR COE) and Crisis Response Systems and Exercises (CRSE) section in the NATO HQ Operations Division in Brussels, Belgium have been identified as having the appropriate expertise to advise the Iraqi National Defence College (NDC) on planning and conducting crisis management exercises.
The aim of the workshop was to advise the NDC instructors who will act as facilitators during the NDC's crisis management exercise on the methodology for planning, conducting and evaluating their annual crisis management exercise, carried out as part of the NDC Course.
During the workshop the NDC instructors received an information on the principles of NATO's approach to strategic-level crisis management exercises; to consider potential shortfalls in the planning, conduct and evaluation of their own crisis management exercise; to think of possible mitigation measures; and to conduct a de-risking exercise in relation to the execution of the NDC's own crisis management exercise.
The NDC's crisis management exercise planned to be conducted in 2021 will potentially provide an opportunity for the teams from the CMDR COE and NATO HQ to follow up with NDC instructors on the considerations shared during the Crisis Management Exercise Methodology workshop.
News