CMDR COE Change of Command Ceremony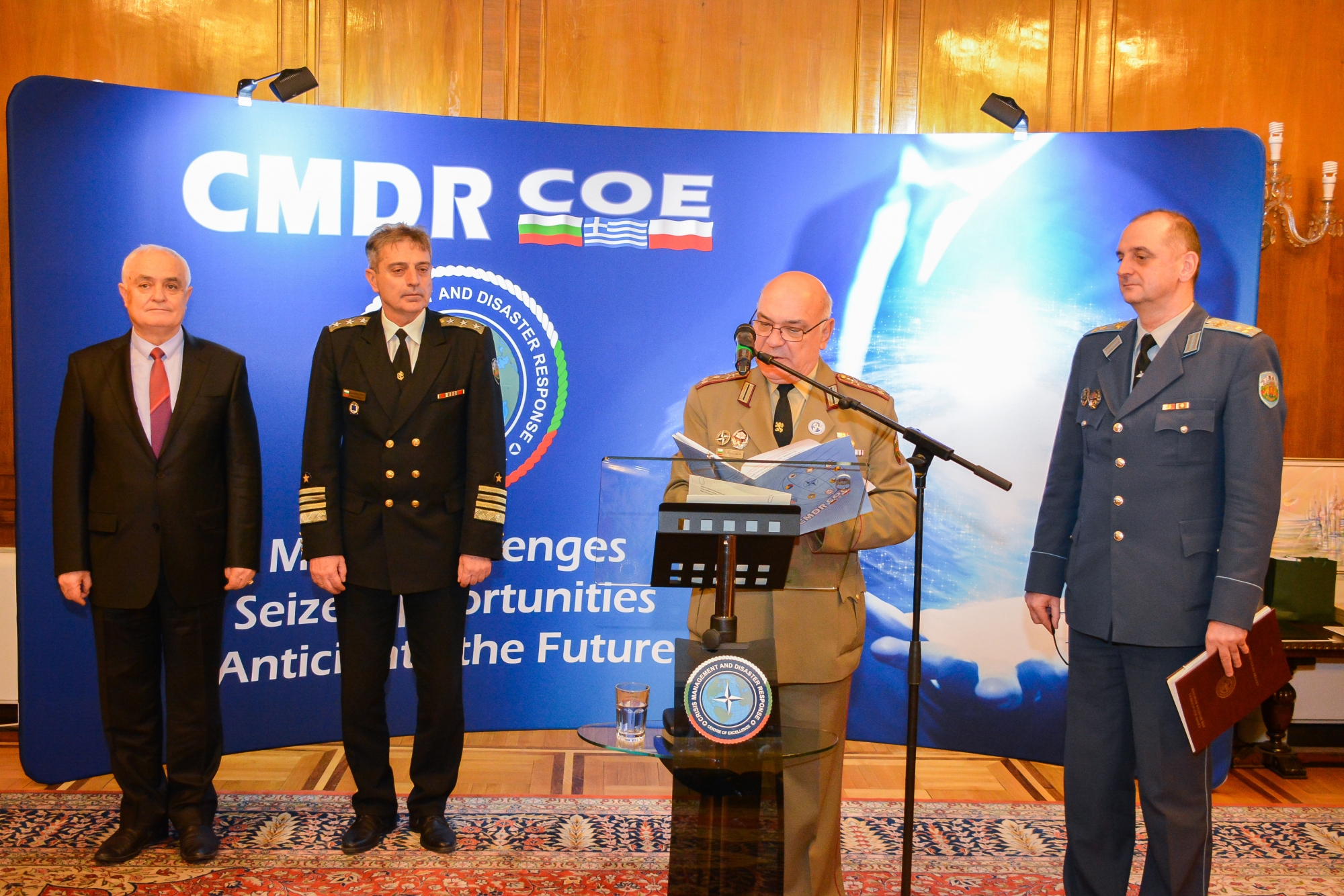 Date: (10-01-2019)
On January 9, 2019 the CMDR COE "Change of Command" Ceremony took place at the Lozenets Residence in Sofia.
Colonel Vassil Roussinov relinquished the position of a Director of the Center to Colonel Orlin Nikolov, former Chief of Capabilities Branch, who assumed the command. The ceremony was attended by high representatives from the Sponsoring Nations: the Republic of Bulgaria, Hellenic Republic and Republic of Poland as well as distinguished guests from governmental entities and academia.
In the presence of the Bulgarian Deputy Minister of Defence Mr Atanas Zapryanov and Deputy Minister of Interior Mr Milko Berner, the protocol for formal change of command procedure was signed by the Deputy Chief of Defence of Bulgaria Vice Admiral Emil Eftimov.
"I am proud of the work we have done together with the leadership of MODs of Sponsoring Nations and all personnel of the CMDR COE and I am sure the new director, Colonel Nikolov will continue successfully the great job we have done by so far", expressed Colonel Roussinov in addressing to the Change of Command ceremony.
In his turn Colonel Nikolov took also the opportunity to praise the work of the Center and expressed gratitude to Colonel Roussinov's high professionalism, dedication and sincere commitment to.
Afterwards consecutively in speeches Mr Zparayanov, Vice Admiral Eftimov and Lt Gen Dimitar Iliev emotionally remembered the combine work they had together with Colonel Roussinov and welcomed the newly appointed Director and wish him success.
Colonel Roussinov has been decorated with Award mark Saint George III grade for Officers by Deputy Minister of Defence Mr Atanas Zapryanov on the behalf of the Bulgarian Minister of Defence, Mr Karakachanov. The Medal of Polish Armed Forces in silver was awarded to Colonel Roussinov by the Polish military defense attache Colonel Marek Warminski as well.
News